In a recent survey, 79% of people questioned said the number 1 reason for decorating their kitchen was to improve the look and feel. With the number one thing stopping them being the cost.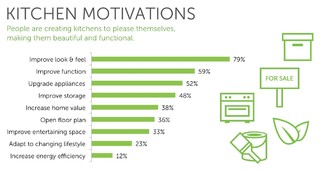 That is why Stick on splashback tiles are a brilliant alternative to having expensive ceramic tiles. They are not only affordable to most budgets but they have a dramatic impact on the look of your kitchen.
We often get asked if stick on tiles are better than ceramic. And the answer is always the same, it depends...
Advantages of stick on splashback
The two most obvious advantages are price and convenience. With a stick on splashback being cheaper and more convenient to install.
On average our customers save 100s of pounds compared to ceramic and they do not have to go through the process of  contracting someone to install them. Which is both time consuming and expensive.
Buy cheap buy twice
Whilst we are massive fans of stick on tiles. Its important to know that not all stick on tiles are made equally. We are committed to offering quality products and although it is cheaper, we refuse to sell the paper thin stick on tiles.
The differences between them and the ones we sell could fill another article on their own. However some quick differences are:
Paper thin stick on tiles are harder to install, do not look as realistic, not as heat resistant and sometimes not heat resistant at all, not as water resistant, look uneven if they are not on a very flat surface and the list goes on.
Rental property?
Another benefit is that our high quality stick on splashback tiles are easy to remove. This is a great option for someone who might be looking to change decor in the future or for people renting, who need to leave the flat in original condition.
Looks realistic and High quality
.
Here is one of many examples we have of a kitchen transformed with a lovely stick on splashback.
This look could be achieved in under 2 hours and the cost was under £50. This kitchen was transformed using our most popular subway style adhesive tiles and the product can be found below
Is it any good?
Whilst we admit to being a bit biased here. We do have  many happy customers whom would agree that stick on tiles are a great option for people looking to update their kitchen. Not only are they much cheaper than traditional tiles. They are much more convenient to install.